Lily Collins is dreadful in Mortal Instruments trailer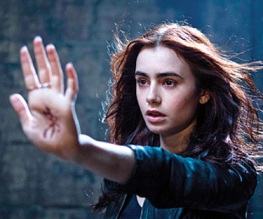 Lily Collins, that person with big eyebrows and a famous dad and little discernible acting talent, is appearing specially for you in a trailer this morning. Yes it's true. Despite the fact that we've had to deal with this nonsense already this week. Why does this film exist? Because the world is cruel that's why. It's a cruel unknowable place in which young adult books called The Mortal Instruments: City of Bones get made into films starring Lily Collins and Jamie Campbell Bower. *Sigh* guys. Double *sigh*. Just watch the trailer. You'll understand.
WHY DOES THE WORLD NEED THIS. THIS FILM HAS ALREADY HAPPENED. SHADOW HUNTERS. DEMONS. TEENAGE GIRL WITH POWERS. MAN IN LEATHER HOOD. LILY COLLINS. WHY WHY WHY WHY.
None of this is actually Lily Collins' fault, of course. Yes she has so far inflicted herself upon the world in the abominable Abduction and the slightly less abominable Mirror Mirror but we suppose neither of those are really her fault either. Then again the blame has to fall somewhere. And if it doesn't fall on Lily Collins then who will it fall on? Jared Harris, supposedly serious actor, appearing in this film as "Hodge Starkweather"? Jamie Campbell Bower, who tried to marry Ginny Weasley? EVERYONE, WE HEAR YOU SAY?
Hell maybe we're being too mean. Maybe this is going to be great. There were certainly parts of this trailer we enjoyed. Like this exchange:
"Hodge Starkweather": Everything you've heard about monsters, about nightmares –
Lily Collins looks at a suspicious cappucino.
"Hodge Starkweather": Something something IT'S ALL TRUE!
Or this one:
Lily Collins looks at Jamie Campbell Bower.
Lily Collins: AAAAHHHH!
Or this one:
Lily Collins: Oh god this isn't happening.
Jamie Campbell Bower walks past.
Or this one:
Lily Collins: If I'm not a human than what am I?
Jamie Campbell Bower: You're a glittery wizard vampire werewolf halfblood muggle mundane shadow vampire blood hunter whose mother is a witch key angel devil demon sorceress changer seer you're the ONE Lily Collins.
This looks like a good movie guys.
About The Author