Skyfall confirmed as title of Bond 23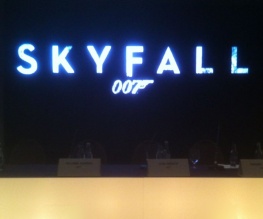 Fifty years to the day after Sean Connery was announced as the first James Bond, the long-awaited details of Bond 23 are finally being released. And detail #1 is that we don't have to call it Bond 23 any more – as everyone suspected, Daniel Craig's third outing as 007 will be called Skyfall. And shooting starts TODAY!
Director Sam Mendes and long-time series producers Michael G. Wilson and Barbara Broccoli called a press conference here in London (convenient for today's scenes in Whitehall, as well as planned shoots in Scotland and Turkey) to announce the cast of what promises to be Daniel Craig's third and final Bond film. They were joined on stage by the man himself along with Javier Bardem, Naomie Harris, Bérénice Marlohe and of course Dame Judi Dench, whose removal from the franchise would obviously sink it in seconds. Javier Bardem is playing the villain as everyone hoped, whilst Harris's character is a field agent called Eve (not, as many of us had previously suspected, a revamped Miss Moneypenny) and Marlohe will play a "glamorous enigmatic character" called Severin. Play to your strengths, eh, James? Ralph Fiennes, Albert Finney and Ben Whishaw have also been confirmed as cast members.
Other interesting titbits from the conference: despite speculation and the long stalling period, Skyfall will have a similar budget to Quantum of Solace (although we won't be seeing Quantum again, thank CHRIST) and it will involve action – in response to a question about gadgets, Sam Mendes coyly said there would be "lots of surprises". Mind you, he's also said that it's a bit of a bugger trying to give a press conference when you're not allowed to reveal anything. On that theme, ComingSoon cleverly asked if certain characters' names (Javier Bardem's villain, for one) were being kept secret because Bond fans would recognise them. It sounds like that theory is bang on. EXCITING!
Everyone's got an opinion. What's yours?
About The Author