Lindsay Lohan may play Elizabeth Taylor. The world weeps.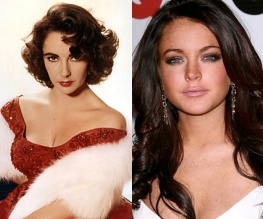 Lindsay Lohan, the meth-addled shoplifter who was, last time we checked, not even together enough to play Linda 'look what a Deep Throat I've got' Lovelace, is apparently being considered for the lead role in a TV biopic of recently deceased megastar Elizabeth Taylor. Check your calendar; it is NOT the first of April.
The Lifetime Network's Elizabeth & Richard: A Love Story will shamelessly sugar-coat portray Taylor's relationship with Welsh actor Richard Burton, to whom she was married twice. Consecutively. There are as yet no rumours on who might end up playing Burton, but that's just as well – the outrage glands of everyone at BFF Towers have had to be given over to pumping bile at Lindsay Lohan's ghastly face and prison overalls, and we don't think we have the energy to process any more news this morning.
Lohan is fresh from ripping off Marilyn Monroe in yet another photoshoot based on one of the starlet's classic sessions – this one for Playboy, which meant she was able to swap a glimpse at her tits and a huge lump of her remaining dignity for quite a bit more meth money. Who's next, Lindsay? Diana? Joan of Arc? The Virgin Mary?
Give us strength.
About The Author