Lindsay Lohan's new film The Canyons gets trailer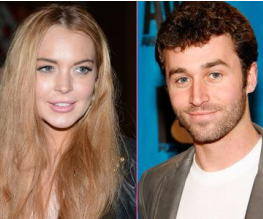 We've just seen the trailer for Lindsay Lohan's new flick The Canyons and we're not sure what to think. The feature also stars porn star James Deen and Good Will Hunting's Gus Van Sant in leading roles. There has been a lot of buzz surrounding this film due to James Deen's involvement and this being Lindsay Lohan's first significant return to the big screen since Robert Rodriguez' Machete. Have a look at the trailer below.
There is a very obvious attempt to mimic an authentic grindhouse-style aesthetic with the campy subtitles and filtered sepia-toned lighting, but the whole thing just comes off a little cheap. The few scenes that show Lindsay Lohan in action feel very forced and wooden and despite his pretty boy-next-door looks we're not entirely convinced that James Deen's casting is anything more than a publicity stunt.
Having watched the trailer a few times now, we cant say that The Canyons looks as if it has the potential to serve as an effective come-back vehicle for Lindsay Lohan's dying career. Admittedly, there is very little revealed about the plot and there's every possibility we might end up eating our words, but we're starting to wonder if Lindsay Lohan will ever get 'it' back? It feels like forever since we've seen her display anything vaguely resembling true talent, and with her entire public image sullied by her various legal disputes, we wonder if now might just be time for Lindsay Lohan to …well…give up?
About The Author