Armie Hammer might play Batman in Justice League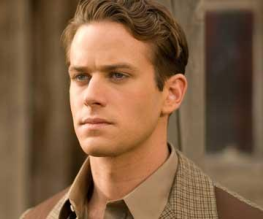 Armie Hammer could be at the top of a list of actors expected to portray Batman in the new Justice League movie. The star of the hotly anticipated The Lone Ranger is thought to be Warner Brothers' first pick to play the gravelly voiced hero in a feature that has been in the works for quite some time now.
This wouldn't be the first time the studio have eyed up Armie Hammer for the project as he was originally tipped to play the caped crusader back in 2010 following his star turn as the Winklevoss Twins in The Social Network. The actor was confirmed for a minor role playing Batman in the ill-fated Justice League Mortal, and even got so far as to try on the cape, but the project was cancelled shortly after going into pre-production.
Armie Hammer has been keeping himself busy in the aftermath of the film's cancellation and is rapidly becoming one of Hollywood's most sought after young talents. Now that Christian Bale has retired from the Batman franchise, this film presents an opportunity to re-imagine the role with a completely different actor and style. There is a Batman shaped hole in our lives and we think Armie Hammer might just be the one to fill it.
Do you think Armie Hammer will make a good Batman?
About The Author