Linklater linked with Limpet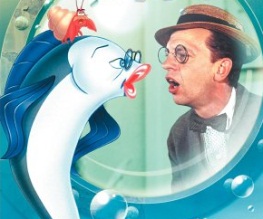 The LA times are reporting Richard Linklater as the frontrunner to direct a remake of the quirky 1968 man-turns-into-fish taleThe Incredible Mr Limpet.
The original The Incredible Mr Limpet starred Don Letts as a man who falls into the ocean and finds himself transformed into a fish. He then goes on to use his fishy powers to aid the US Navy against Nazi Germany.
Warner Bros. have had the The Incredible Mr Limpet project lined up for some time with Kevin Lima (Enchanted), Zack Galifianakis and Jim Carrey variously rumoured to be involved. It is reported that regardless of who eventually helms the project it will transported out of the World War 2 era and into the modern day.
Linklater's proposed remake is said to follow in a similar vein to his more recent projects Waking Life and A Scanner Darkly in blending live action with animation. Good news for anyone who was dreading the prospect of badly rendered CGI fish people.
About The Author