Little House on the Prairie to get film adaptation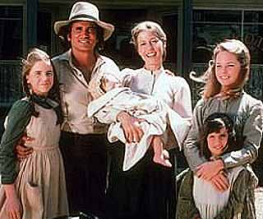 Our favourite childhood television series: Little House on the Prairie is going to be adapted for the big screen. If you didn't watch it – or worse – you haven't even heard of it, quite simply you didn't have a real childhood. This is unfortunate and we would like to extend our sympathies.
Set in the 19th Century American West, The Little House on the Prairie was based on the semi-autobiographical novels of author Laura Ingalls Wilder and focused on the day-to-day lives of the Ingalls family and their farm. As much as we'd love to credit our parents, it was this little family show that taught us everything we know about morals and values, and we cannot wait to see the film adaptation.
Our only misgiving about the idea, comes from the apparent news that David Gordon Green is prospectively lined up to direct the film and Abi Morgan is confirmed as scriptwriter. David Gordon Green is responsible for, *cough age-old classics Pineapple Express, Your Highness and The Sitter and Abi Morgan was the screenwriter on The Iron Lady and Shame.
We love a good stoner-comedy as much as the next person and Abi Morgan's writing credits speak for themselves, but so much of the charm of Little House on the Prairie depends on the uncomplicated, wholesome nature of its characters and we have a horrible feeling that between the two of them, they're going to do something stupid, like make Laura into a crystal meth addict or turn Michael Landon's character into a pimp who beats his wife. We hold this series very dear to our hearts and so we hope that the integrity of the original show is not compromised.
About The Author