Loki rumoured to be Avengers antagonist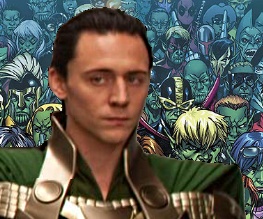 The first trailer for The Avengers will reportedly accompany screenings of either Thor or Captain America: The First Avenger this spring – and rumours have hinted at the identities of the villains (!) who will be facing off against Iron Man (Robert Downey Jr), the Hulk (Mark Ruffalo), Captain America (Chris Evans), Black Widow (Scarlett Johansson), Thor (Chris Hemsworth), Hawkeye (Jeremy Renner) and Nick Fury (Samuel L Jackson).
There's not much point in issuing a spoiler warning given the title of the article and the big shiny image just above this sentence, but [HERE BE SPOILERS] anyway. The Hollywood grapevine alleges that Thor's adoptive brother Loki (Tom Hiddleston) is to wage war on the Avengers, backed up by an army of reptilian Skrull aliens summoned by the Cosmic Cube (a big Captain America plot point). We must emphasise that all this could well be nothing more than moonshine, but we quite fancy the prospect of an Asgardian immortal with a crew of big green bastards to back him up – more on this as leaks are inevitably sprung in Marvel's information dam.
The Avengers started shooting last month and is due out next May.
About The Author