Lost's Mr Eko joins Thor 2 as an elf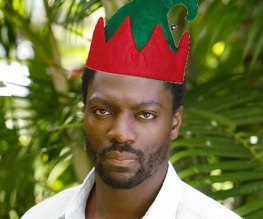 Adewale Akinnuoye-Agbaje – or "Triple A" as we shall refer to him from this moment on – has confirmed that he is joining the cast of the Thor sequel. Only yesterday we reported that Kat Dennnings was returning for Thor: The Dark World and now THIS. Stop bombarding us with casting news, Thor 2 you devil, you!
Triple A is perhaps best known for his role as the mysterious Mr Eko in long-running series Lost but has also appeared in things like G.I. Joe: The Rise of Cobra as a character called "Heavy Duty". It looks like he'll be hitting the big time with this role, though. As The Hollywood Reporter has reported, Triple A will be playing a Dark Elf named Algrim the Strong in the upcoming superhero sequel. Chris Hemsworth will be reprising his role as the god of thunder alongside newcomer Christopher Eccleston who will portray Malekith, ruler of the Dark Elves of Svartalfheim. This all sounds promising. Especially if these elves are the small cute kind who make presents for a living.
We're a fan of Triple A. ARE YOU? Let us know!
About The Author