Star Wars 3D re-releases put on hold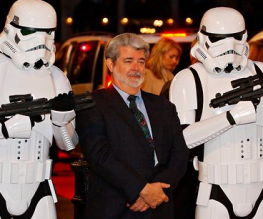 Back in August we told you about Lucasfilm's plan to re-release Star Wars Episode II: Attack of the Clones and Star Wars Episode III: Revenge of the Sith in 3D. This is all lies. Well, it wasn't back then, but it is now. Lucasfilm have decided to postpone the scheduled 3D re-releases of Attack of the Clones and Revenge of the Sith to concentrate on filming Star Wars Episode VII, with J. J. Abrams as the new director.
Following the rip-roaring commercial success of Star Wars Episode 1: The Phantom Menace's 3D re-release, the plan was to release Attack of the Clones and Revenge of the Sith together in 3D in cinemas this September. Now that this is no longer happening, we're assuming Disney (having bought Lucasfilm last year) are planning on re-releasing the films after Star Wars Episode VII hits cinemas in 2015. This is a good thing, folks, PUT THE LIGHT SABER DOWN! It means that Disney/Lucasfilm have more time to focus on nailing Episode VII. No pressure, J. J. Abrams.
Here's what the studios had to say about postponing the 3D films;
"Lucasfilm has decided to postpone this fall's scheduled release of Episodes II and III in 3D. Given the recent development that we are moving forward with a new Star Wars trilogy we will now focus 100 percent of our efforts on Star Wars: Episode VII in order to ensure the best possible experience for our fans. We will post further information about our 3D release plans at a later date."
We at Best For Film have a few deep-seated reservations (outright objections) about the whole 3D Star Wars re-releasing debacle. If you're not sure as to what these could possibly be, read our reasons why you shouldn't see Star Wars: Episode I in 3D, and apply these to the whole franchise.
Are you gagging to see Attack of the Clones and Revenge of the Sith in 3D? We banish you to a galaxy far far away if so. Only kidding. But really, check yo-self, guys.
About The Author