Paul Giamatti could play Rhino in The Amazing Spider-Man 2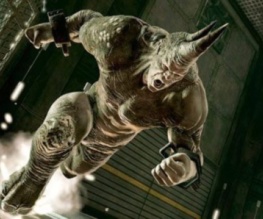 The amazing Paul Giamatti could be taking on his 'dream job' to play Rhino in The Amazing Spider-Man 2. Giamatti has said that the man-turned-creature was among his favourite villains as a child and that he has been a long term fan of the character. Negotiations are still underway, but The Amazing Spider-Man 2 will definitely star Andrew Garfield, Emma Stone, Sally Field and Martin Sheen.
We previously reported that Jamie Foxx has been cast as Electro, a villain with electrical powers, and that the new film may feature Morbius, the living vampire.
The Rhino first appeared in The Amazing Spider-Man #41 as a Russian mafia thug called Aleksei Mikhailovich Sytsevich who underwent a dangerous chemical experiment to give him skin-like armour. The chemical bonded to his skin and turned him into Rhino, a man with horns that can spear buildings and cars. Pictures from the Spider-Man game released last year (above) show an idea of what the creature could look like, with the bulging muscles of Marvel characters like The Hulk.
This won't be the first time Paul Giamatti takes part in a comic book adaptation, the first being American Splendor in 2003. Giamatti has said "I think I would be the best Rhino possible." We agree.
The Amazing Spider-Man 2 is due out in the UK on 2 May 2014.
Would you like to see Paul Giamatti play Rhino? Let us know what you think.
About The Author