The Hangover 2: Cameo Revealed!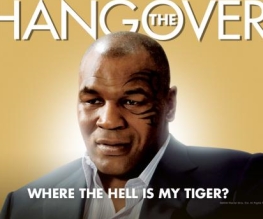 SPOILER ALERT! ACHTUNG! POZOR! We have here the identity of The Hangover sequel's sure-to-be-wacky celebrity cameo; one that will attempt to top Mike Tyson's air drumming and face pummeling guest appearance. However, just in case you would like to be surprised when the film ('s trailer) hits, we have used a non-spoilerific picture and given you this opportunity to back away from the article. Run now or forever hold your peace, because you can't say we didn't warn you!
With the film currently shooting, it is already well known that it will see the return of the first installment's male leads; possibly even the boring groom one who recently starred in a shocking film with Catherine Zeta-Jones. Yes – Bradley Cooper, Ed Helms, Zach Galifianakis and Justin Bartha are all said to be coming back, alongside comedy gangster Ken Jeong, for the Thailand-set storyline. And they will be joined by none other than Mel Gibson. That's right, the Holywood A-lister who seems to be consistently mired in scandal has apparently been offered a role in the upcoming film. Well, he does probably have plenty of hangover experience, but will it take more than some self-effacing jokes to restore his flailing reputation? …for the umpteenth time. We'll just have to wait and see.
UPDATE: Mad Mel's cameo cancelled!

The Hangover 2 is scheduled to make us feel woozy on May 27th next year.
About The Author