Marlon Wayans' movie A Haunted House in cinemas 2013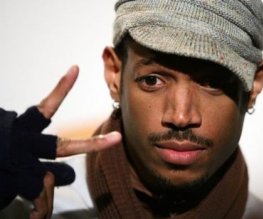 If you're currently hearing a medium pitched groan and you dont know where's it coming from, don't worry, that's just us reacting to the news that Marlon Wayans is making yet another film. Yes, the Wayans brothers are still a thing, and still insisting on making seriously unfunny spoofs that will somehow make decent bank at the box office.
A Haunted House will not only star Marlon Wayans but has also been co-written by the 'comic', with the distribution rights for the film having already been acquired by Open Road Films. This is bad news because it means that the chances of us not having to be subjected to endless trailers showcasing the 'hilarious' antics that are sure to feature in this godforsaken film are slim to none.
Apparently convinced that there is still a wealth of comedic potential to be derived from the horror genre, Marlon Wayans has now decided to take potshots at found footage films. Teaming up with actress Essence Atkins, the two will play a husband and wife who, upon moving into the house of their dreams, discover that the wife is possessed by a demon à la Paranormal Activity.
Expect lots of hackneyed slapstick, jokes that never land and gross sexually explicit gags which will quite likely leave you gagging. We would actually rather sit through a two hour long Bruce Forsyth set than watch Marlon Wayans churn out this tripe. The film will be released January of next year. God help us all.
About The Author