Matt Damon to team up with John Krasinski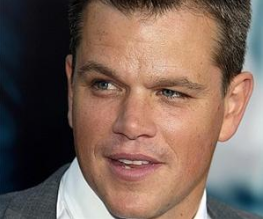 Now, although we've yet to see Matt Damon direct anything, judging by his talents in the areas of writing, acting, freedom-fighting, Sarah Palin bashing, Matthew Mcconaughey impersonating and stupidity crushing we're pretty confident he'll be totally brilliant at it. He is going to star in his own directorial debut alongside US Office star John Krasinski and to round things off, he's going to write it as well. LAD ALERT.
It looks like Krasinksi and Damon have co-written a drama centring on a salesman who finds that a small town is slowly being poisoned – a la Erin Brokovitch? Possibly. No more details have as yet been released, but judging by his Oscar win for the Good Will Hunting screenplay, it's safe to say we're in safe hands. The problem is that Matt Damon is so good at basically everything we just want all of his skill rockets firing at ALL TIMES. Right Matt; direct, write and star in this film, carry on being hilarious in every interview you ever give, make sure you keep fighting the good fight for democrats everywhere and continue tending to your apparently blissful family life. You bastard.
About The Author