Matthew McConaughey in new Scorsese film. This is not a drill.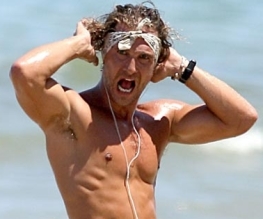 Matthew McConaughey has managed to become the third man in Leonardo DiCaprio's and Martin Scorsese's longtime love affair, joining them both in The Wolf of Wall Street. The story sounds like it was positively made for Scorsese's cerebrally-pretentious style of filmmaking; it's more or less an Occupy-themed biopic of Oscar Wilde. Based on Jordan Belfort's memoirs, the film will tell the story of the drug-addicted young stockbroker's 1998 indictment for money laundering and his subsequent two-year imprisonment. DiCaprio will be playing Belfort (clearly the "young" part of the role is just going to be implied then), and McConaughey as his boss and mentor, Mark Hanna.
We never thought we'd live in a world where Matthew McConaughey wasn't just riding through romcoms on his pecs-appeal, but then it's also a year where the UK didn't get nil points in Eurovision, we are not at the bottom of the medals table at our own Olympics and where Channing Tatum has suddenly become a Thing™ – nothing is how it's meant to be, our world view has been shaken, so we guess McConaughey can put his top on if he wants.
Currently coming over all Christian Bale, with the weight loss he's undergoing from beefcake Dallas in Magic Mike to end-stage AIDS patient for next year's The Dallas Buyers' Club, we are bemused and yet quietly impressed with the direction McConaughey's career is taking.
The Wolf of Wall Street is due for release in 2013, also starring Jonah Hill (21 Jump Street) and Jon Favreau (Iron Man).
Can you envisage a world where no one sees Matthew McConaughey's nipples? Console us in the comments.
About The Author