Megan Fox Marries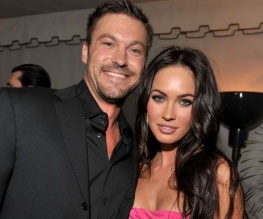 According to US reports, Transformers mega-babe Megan Fox has secretly married her long term lover Austin Green in Hawaii. Awww… well we're glad some good news has come Megan's way after being tossed out of the new Transformers flick. We say good luck to Austin, if Michael Bay is to believed she's quite the handful!
The pair were married in an intimate ceremony at the Four Seasons hotel on the Big Island – apparently with only half a dozen guests. They were first engaged in 2004, but Fox broke it off in Feb 2009. There's a bit of an age gap, with Fox being 24 as opposed to the 90201 star's 36 but it seems marriage has been on the cards for a while. Fox recently said
"I've been in this relationship so long and I love [Brian] so much. And of course [marriage is] in the future somewhere. I'm not closed to that idea. I just think If you're going to [get married], if you're going to be with someone and make a commitment, it's good to tell the universe, to say I'm committing to this person and making them my family."
Well, think of this as us officially helping you tell the Universe Miss Fox. Congrats all around!
About The Author