Mendes and Broccoli fight over new Bond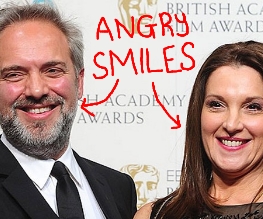 As you may already know, here at Best For Film we're very sad that Skyfall director Sam Mendes has said he won't do any more Bond films. However, given the critical and commercial success of the film (and the fact that it's ONE OF THE BEST BONDS EVER), Bond producer Barbara Broccoli has said that she isn't going to let the guy go easily! Looks like there could be a Mendes V. Broccoli fist fight in the future as Barbara is very serious about her intention to get Mendes to reverse his decision: "We will get him back… maybe not for the next one, but we will get him back". GO BARBARA, GO!
In response to Broccoli's persuasion, it looks like Mendes has softened his perspective on the matter recently! He has said that he has "definitely left the door open"  just in case he can be persuaded to return to Bond in the future. However, he has also insisted he needs a bit of time before his next Bond outing: "I've never really repeated myself, done the same type of movie one after the other, so just give me a chance to think about what I actually want to say."
If there is anyone who knows what's good for the Bond franchise, it's Barbara Broccoli. She is the daughter of Bond producer Albert R. 'Cubby' Broccoli and started contributing to Bond movies when she was just 17. She worked in the publicity department of The Spy Who Loved Me, as the assistant director of Octopussy in 1983 and the associate producer of The Living Daylights in 1987. More recently she produced the Bond films starring Pierce Brosnan and Daniel Craig.
Looks like you have a worthy opponent, Sam.
Do you think Sam Mendes should return to the Bond franchise? Let us know your thoughts below!
About The Author