Meryl Streep given Berlinale's Golden Bear award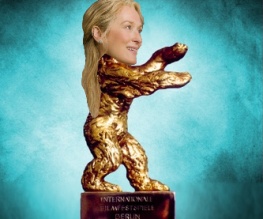 Meryl Streep, who is widely tipped to receive her third Oscar this year for The Iron Lady, has been awarded the Berlin International Film Festival's highest honour.
Since 1982, the Berlinale has occasionally supplemented its annual Golden Bear award for best film with an honorary Golden Bear, awarded to actors, directors, screenwriters and so on for careers of outstanding merit. Previous winners include actors Dustin Hoffman and Sophia Loren, composer Maurice Jarre and directors Oliver Stone and Ang Lee (the only double winner).
Director Dieter Kosslick said: "We are delighted to be able to award the Honorary Golden Bear to such a terrific artist and world star. Meryl Streep is a brilliant, versatile performer who moves with ease between dramatic and comedic roles."
Streep is generally considered to have only one serious rival for this year's Best Actress gong at the Academy Awards – Viola Davis, who starred in The Help. The Berlinale does not, of course, have any influence over the Academy, but this extra commendation certainly won't harm Streep's case…
About The Author