Michael Bay has 3D ants in his pants.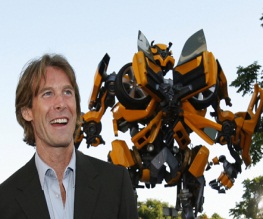 MICHAEL BAY has responded to rumours that his Transformers: Dark of the Moon has run into 3D related troubles. With the rumourmill spitting out hearsay that, unlike the growing tendency towards 3D shot with specialist equipment, Transformers 3 has suffered from a rush conversion job.
While the loss of Megan Fox in itself will grant the threequel extra dimensionality, the alleged issues facing his production could not go unnoticed. Bypassing the press-release and discussions with his team of publicists, Bay used a message board on MichaelBay.com to host his witless retort.
"Wow, I read these morons on the internet who think they are in the know. "We have problems with our 3D????" Really? Come into my edit room and I will show you beautiful 3D. There has never been a live action show that has pushed the boundaries of 3D like Transformers 3. We shot the entire movie with 3D cameras. I actually loved shooting in 3D."
Wow indeed. Having been attacked on all fronts – by critics, fans and his stars alike – Bay needed to pull something pretty special out of the Allspark to make up for Transformers: Revenge of the Fallen (and, if you ask me, the over-pixelated mess of an original, too).
Promising to push the boundaries of live-action 3D like never before, I look forward to to seeing the new-wave Autobots putting James Cameron's painstakingly realised Na'vi to shame. For your first tantalising glimpse of this landmark of three dimensional cinema, ahead of the movie's July 1, 2011 release date, please see the trailers attached to The Chronicles of Narnia: Voyage of the Dawn Treader and Tron: Legacy when both movies are released later next month.
For now, however, we leave you with these words of wisdom, from the man himself.
"And don't watch this movie in 2D, we made it for 3D."
Must we really watch it at all?
About The Author