Michael Douglas to return to the screen in Last Vegas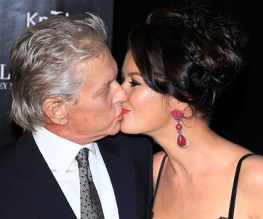 Cancer-conquering hyperLAD Michael Douglas is returning to cinema with new film Last Vegas, in which he will shoulder the distinctly method role of an ageing man who takes up with a woman half his age.
Last Vegas was on Douglas' to-do list before he was diagnosed with stage four throat cancer a couple of years back, but following his near-miraculous recovery it's back on track (although possibly without his planned costars Dustin Hoffman and Christopher Walken). The ensemble comedy will tell the story of four lifelong friends who meet up in Vegas for a stag night and end up arguing over a woman they both fancied in their teens, or something. It probably won't be great.
Jon Turtletaub, who made Cool Runnings and then spent 20 years churning out unconscionable shit like the National Treasure series, is directing with a script by Crazy Stupid Love scribe Dan Fogelman. We're really pleased that Michael Douglas isn't dying, but don't you think that his new lease of life would be leading him towards more interesting projects?
Do you want to see Last Vegas? Justify yourself below!
About The Author