More delicious Iron Man 3 goodness!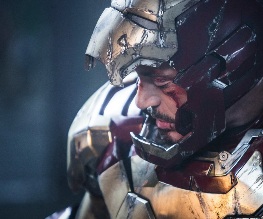 There's a new Iron Man 3 TV spot, and like the promotional material before it, it's pretty fantastic. There's more banter between Tony Stark and the Mandarin, with Stark telling his adversary "You're not a man. You're a coward. It's just you and me". That'd get us pretty riled up, too.
The Mandarin accepts Tony's challenge with a gravelly "Let's go", and then all the explosions in the world kick off. There's even a nice, elongated scream from Stark's girlfriend Pepper Potts (Gwyneth Paltrow) to add an extra element of danger and female peril to the whole thing. CHECK IT OUT.
Most of the stuff in this TV spot has already been seen before, for example, civilians being flung from a plane and Tony jumping from a bridge straight into his armour. Still, it's cool to see the serious, battle-ready side of Robert Downey Jr's goateed billionaire genius. His enemy this time around, played by Ben Kingsley, is still very much under wraps. He's got the slow, creepy speech and the excessive jewelry down pat. And from the looks of this TV spot, he's quite fond of fancy sunglasses too. Iron Man 3 rolls out in UK cinemas on April 26 and stars Don Cheadle, Rebecca Hall and, for some reason, Guy Pearce is in it too.
What's the best part of this TV spot? We reckon ALL OF IT. What do you think?
About The Author