More Godzilla films pls! And soon!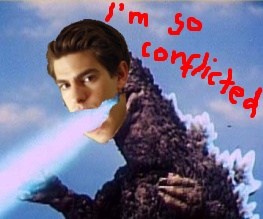 Max Borenstein – writer behind Swordswallowers and Thin Men(??) and the upcoming The Seventh Son – has apparently been hired to write Legendary's Godzilla reboot. Attached to direct is Gareth Edwards, who made his mark with last year's indie sci-fi Monsters.
The last big screen incarnation of Japan's fave lizard monster was the 1998 film directed by Roland Emmerich (of course) and obviously everyone has been crying out for a gritty reboot. The jury is still out on who will be playing the lizard himself, but perhaps after nabbing the lead in the new Spiderman film, it could be everybody's favourite brooding hunk, Andrew Garfield. With, perhaps, Christian Bale as the villain Badzilla? And Ryan Gosling as a hotshot lizard-hunter who's got a point to prove? Emma Stone as love interest Girlzilla??? There's everything to play for here, guys. EVERYTHING.
About The Author