MORE Hunger Games: Catching Fire posters released!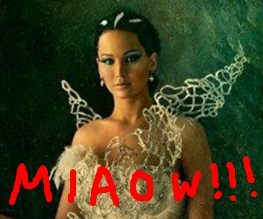 Yesterday we revealed that three brand-spanking-new Hunger Games: Catching Fire posters had hit the world wide web in all their deadly and fahsionable glory – but it seems as if the folks at Color Force aren't done with us yet! In fact, ti seems as if they intend to unleash plenty more sexy new character portraits ahead of the The Hunger Games was sequel hitting cinemas in November 2013.
So, if the posters yesterday weren't quite tickling your fancy, chances are you'll find something in today's offering to get lustful over. Mainly because Jennifer Lawrence's beautiful big face has been plastered over a SMOKIN' HOT Katniss Everdeen Capitol Portrait. And if there's one thing we know about Jennifer Lawrence, it's that she has the ability to get people very excited – even when she's dressed up like a dystopian Christmas fairy.
As before, these new Capitol Portraits aren't about the murderous kid-on-kid action so prominently seen in The Hunger Games. Instead the wondrously clever folks behind the new Capitol Couture blog have decided to bring the fantastic fashion and propaganda of Panem to life – and the result is something vibrant, something captivating and, at the same time, something oddly disconcerting, considering the deadly backstory.
Click on the posters of Katniss Everdeen, fashion designer Cinna (Lenny Kravitz) and Tribute trainer Haymitch (Woody Harrelson) below to see them in all their full-sized glory. Go on…
We love Cinna's bad boy leather. We love how worryingly angry Haymitch looks. And, as expected, we love Jennifer Lawr… ahem. We mean, we love Katniss Everdeen's not-so-effortless chiffon-laden ballgown. So what if these rebel supporters don't look anywhere near as pleased to be part of Panem's fashion parade as Effie Trinket (Elizabeth Banks) and Hunger Games TV host Caeser Flickerman (Stanley Tucci)? That's to be expected. Enjoying things, after all, is for fully paid-up members of the Capitol's exploitative regime.
Jennifer Lawrence, Woody Harrelson and Lenny Kravitz will be joining the likes of Josh Hutcherson, Stanley Tucci, Elizabeth Banks, Liam Hemsworth, Philip Seymour Hoffman and Sam Claflin, when The Hunger Games: Catching Fire launches a Victory Tour straight into our cinemas on 22 November 2013. We've got chills just thinking about it.
Are you looking forward to seeing The Hunger Games: Catching Fire this Autumn?
About The Author