More photos from Django Unchained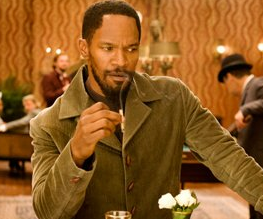 As we wait to hear whether we'll get to see a first full-length trailer for Tarantino's Django Unchained when we pop along to watch Prometheus (that's how you release a trailer, Nolan), we can at least content ourselves with brand new photos of Jamie Foxx looking WELL dapper. And Christoph Waltz SHOOTING A MAN. And… and… SOME HORSES! Yeah!
Yeah, OK, there's a small chance we might be entering Django overkill territory – seeing as we've so far had some stills, some more stills, a poster and now these shots – but hey, none of these pictures have been MOVING PICTURES yet, so we're still all jumpy about it. And frankly, after the devastating news that Kurt Russell would no longer be featuring, I think we all needed a look at Jamie Foxx wearing a nice green coat.
Ahhhh. That's better, isn't it? MORE.
And finally, the horses we promised. We do spoil you.
Feel like we've earnt a trailer yet? Us too.
About The Author