Muppet movie gets first trailer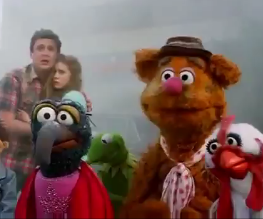 We've been bothering you incessantly with bits of Muppet news for months now, and finally, finally we have something solid to show for it. Disney have released the first official trailer of the new muppet movie, and dammit, it's great. Yes, we were always going to say that, no, we haven't watched it yet and yes we have really, that was just a bit of hyperbolizing. ONWARDS!
Jason Segel and Amy Adams seem to be having the time of their lives in the puppet-fest, (though it has to be said it's tricky to tell the felt creatures from the horror of Amy Adams' surprisingly plastic face), and the plot looks to be silly, song-based and typically META. Look:
"Are there muppets in this movie?" Ah yes, we see. Very good, Jason Segel. Very good.
Considering we mark every happy occasion at BFF Towers with a rousing chorus of "Cabin Fever" from the mighty epic Muppet's Treasure Island, we're possibly not free from bias when it comes to this film. But even so, we reckon it's fair to say that this film will change all of our lives forever. STAY TUNED, PUPPET FANS.
About The Author