Muppet sequel won't have a Jason Segel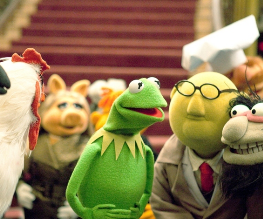 Though there's no denying that Jason Segel was integral to bringing the Muppets back to the big screen, it looks like he's happy to let the furry critters roam free from now on. He's confirmed that he won't be involved in the recently green-lit sequel, stating that his human-based projects kind of have to take precedence. Fair enough, to be honst.
Having co-written and starred in the The Muppets, Segel wanted to underline just how much work he'd put into the project, stating "I'm sure I'll return in some capacity here and there, but that was half a decade of my life. Five years of hard work. I'm ready for a little puppet break." That's fine and everything, though they do say that if you need a break from Kermit, you need a break from life.
But don't get your pants all worried – it looks like director James Bobin (who? CHEAT SHEET!) and writer Nicolas Stoller are more than willing to take up the Muppet mantle once again, which probably means that Bret McKenzie will also be jollied into providing us with more lovely music. Now that the Muppet theatre has been saved, it's time to embark on a proper adventure. So, will it be another original tale? Or a felt-based take on a classic story? Only time, and a sexually aggressive pig will tell…
About The Author