Neil Gaiman embarks on Journey To The West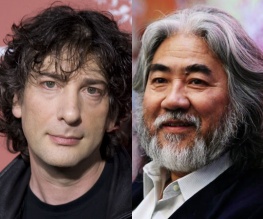 Neil Gaiman, positively the bestest fantasy author of this or any other timeline, is to write the screenplay for a sprawling, epic three-film adaptation of classic Chinese legend Journey to the West – and it sounds as if Guillermo Del Toro could be directing. Just to reiterate, that's Mr Neverwhere and Señor Pan's Labyrinth, collaborating on a trilogy about a legendary warrior called the Monkey King. Because he's a monkey. This could not, repeat COULD NOT get any cooler.
Chinese producer Zhang Jizhong, who has already worked on adaptations of two of China's Four Great Classical Novels (that's actually what they're called – up yours, George Eliot) is running the show for what looks set to be the most expensive project in Chinese cinema history – each film in the trilogy will apparently have a budget of $100m, most of which will come from within China. AND James Cameron's consulting on the 3D (of course 3D). AND the Monkey King has a magic staff. More news on this within seconds of us learning it. Hurrah!
About The Author