Neville Longbottom gets all sexy-like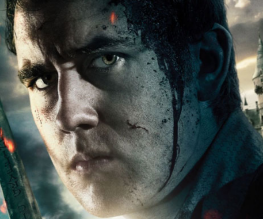 Seriously, what happened to Matthew Lewis? The boy who played serial dripper Neville Longbottom has apparently intercepted the ugly stick, learned its secrets, inverted its powers and knocked himself out with it. That's not to say we're not happy with the change – and apparently Warner Bros feel the same, awarding young (not too young) Neville his very own poster.
In the run up to THE FINAL FILM THAT THERE IS EVER (EXCEPT ALL THE OTHER FILMS), it makes sense for Warner Bros to push out as much marketing as possible. But showcasing Neville Longbottom? There's only one reason for it, and it's because he's gone from looking like this:

To looking like this:

Now, as you know, at BFF we're not about mindless gossip. We've honed a very specific, subtle combination of searing, vital journalism and perving. Let's see Neville in action! TAKE OFF YOUR SHIRT AND SAVE THEM, NEVILLE!
No?
About The Author