New Gulliver's Travels poster tanks online.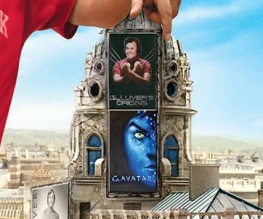 Jack Black and the team behind Gulliver's Travels have set themselves a suitably low goal judging by the latest poster for the Tenacious D singer's latest. Apparently having given up, the marketing campaign have clearly settled on just one thing: making the Orange advert look inspired.
The poster in question, showcased below, couldn't make me want to see the movie less. Whoever's idea it was to repeat a 'comic' variation of "the iconic scene, where Gulliver Travels gets tied down by the tiny strings" in front of every movie for the last two months couldn't have done more to convince audiences that they'd already seen all the funniest scenes.
Seriously, someone sign Black over to Mr. Dresden as the fictional CEO of Orange clearly knows the mugging actor's range better than whoever represents him currently. Failing that, the actor – who was recently attached to the the forthcoming Muppets movie – might find a regular spot trying to out act Ms Piggy.
Should you find yourself impervious to bad-for-Key-Stage-1 photoshop jobs, the prospect of another needless remake and Nocho Libra in its entirety, 20th Century Fox's Gulliver's Travels is due for release this December 22nd.
About The Author