New Iron Man 3 image shows a bloodied Robert Downey Jr
You know how a kidnapper usually sends you a photo of their hostage (aka your nearest and dearest) beaten black and blue, along with a severed ear or finger, and then demands a positively unreasonable ransom? We give you the latest Iron Man 3 picture. It's safe to say that Tony Stark has seen better days, isn't it?
Dubbed by Marvel as a "special holiday treat" for fans – we dread to see what they've been popping under THEIR Christmas trees – the brand-new Iron Man 3 image shows a bloodied and battle-worn Robert Downey Jr. His helmet is up, his face has been beaten and he's looking down to the floor with what seems like regret… is someone dead down there? IS SOMEONE DEAD ON THE FLOOR, IRON MAN?!
We have no idea, to be honest. Check out the image for yourself (click, as ever, to enlarge):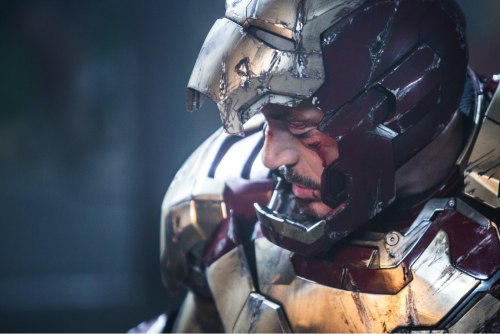 Maybe he's staring down at the lifeless body of long-term love interest Pepper Potts (Gwyneth Paltrow)? After all, we did see her screaming and squirming around in probable peril during the Iron Man 3 trailer. Whatever it is that has emotionally broken Tony Stark, there's no denying that this is the lowest we've ever seen the cocky millionaire superhero look. So it's got to be seriously bad news.
Let's just remind ourselves of the Marvel press release announcing Iron Man 3:
Marvel's 'Iron Man 3' pits brash-but-brilliant industrialist Tony Stark/Iron Man against an enemy whose reach knows no bounds. When Stark finds his personal world destroyed at his enemy's hands, he embarks on a harrowing quest to find those responsible. This journey, at every turn, will test his mettle. With his back against the wall, Stark is left to survive by his own devices, relying on his ingenuity and instincts to protect those closest to him. As he fights his way back, Stark discovers the answer to the question that has secretly haunted him: does the man make the suit or does the suit make the man?
Deep. That's deep. No wonder Tony Stark looks so bloody depressed, eh? But fear not, Iron Man fans. If we know superheroes (and we think we do!), we suspect that, shortly after this woebegone shot, Tony will somehow gain the upper-hand and defeat evil – this time in the shape of Ben Kingsley's Mandarin. But his I-need-a-hug face suggests that, no matter how quickly his wounds may heal, the emotional damage underneath could be a long lasting one…
What do YOU think happened to Tony Stark in the latest Iron Man 3 image? Let us know below!
About The Author