New Motion Poster for The Tall Man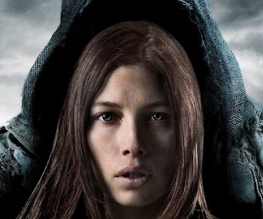 The Tall Man will be darkening our screens on the 5th September, so with only a few weeks to go it's time to start rolling out the teasers, images and motion posters. Unfortunately, in keeping with everything else we've seen and heard of Pascal Laugier's horror, this one looks staggeringly dull. In what appears to be total sincerity, they've used the words 'The Kids are not Alright' and shown what appears to be AN AVERAGELY HEIGHTED MAN making off into the woods with a child slumped over one shoulder.
[swfobj src="http://www.springboardplatform.com/mediaplayer/springboard/video/co008/0/532597/" width="450″ height="730″]
Oh, a child singing a lullaby, what other desperately original horror tactics will you be throwing our way Pascal? This Jessica Biel nonsense is the story of the local nurse who doesn't believe that all the children of her town are being abducted by a mythological boogeyman called The Tall Man – that is until he takes HER OWN SON! Aaaaaaaah! Into the woods you go Jessica, you find that averagely heighted man.
About The Author