New Mr Popper's Penguins Trailer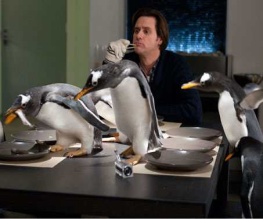 Jim Carrey continues to plough his own particular filmic groove into the depths. After years of him slapsticking it around with various animals, Carey has branched out into birds. Check out the latest trailer for family-friendly tale Mr Popper's Penguins below. Carrey plays Tom Popper, a successful businessman whose world is upended when his explorer father sends him a package containing some penguins. Popper then becomes the world's first penguin trafficker (we wish) and hilarity ensues, or something. Although the CGI penguins are obviously the real stars, Mr Popper's Penguins also has roles for Carla Gugino (as Popper's long-suffering wife) and Angela Lansbury.
You would think that after Bruce Almighty, How the Grinch stole Christmas and Lemony Snicket, Carrey would be sick of this kind of thing, but Mr Popper's Penguins is bound to bring in the megabucks. Carrey seems to have nothing currently in production, so we ask him to put down that Ace Ventura 3 script immediately, and pick up something meatier.
About The Author