Diesel gets career back on track, sets about destroying it again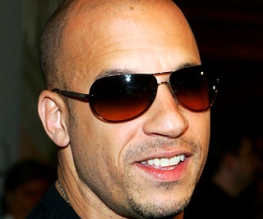 It was all going so well. With Fast & Furious doing boffo numbers when it came out and Fast Five doing even better, it looked as if he'd given his career a kick in the proverbial balls after a few missteps. Now This. Now The Machine.
He's set to star and produce (so if it sucks you really have to blame him) the action-comedy for MGM. The premise, which smells of one of those low-rate 90s family films, follows our Vinny as The Machine [insert joke about robotic acting style], a human-like machine created in secrecy by The Pentagon as the world's first true ultimate weapon (nuclear weapons, no?). Twenty years after the project was buried and decommissioned (probably with a big red stamp that said disavowed), The Machine is discovered by a kid who, unsurprisingly, befriends him. When the Government finds out it has been reactivated the family must protect him…and it probably ends in some of sort of self-sacrifice. Or something.
An original story (yes it made me laugh too) from Thomas Lennon and Robert Ben Garant, the witty minds who specialise in lame comedies (Night at the Museum (1 & 2), Taxi and The Pacifer), the film does not have a director but MGM are looking at a Fall start. That's Autumn for us non-Yanks.
There's still no word on the whereabouts of Riddick 3 which Diesel did say would be the next project after Fast Five. Has it high-tailed it back to languishing in development hell?
About The Author