New Skyfall character posters and banner released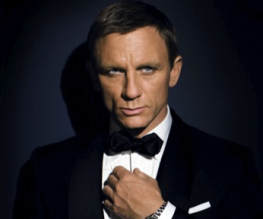 Who's still excited for Skyfall? WE ARE. Unfortunately, Daniel Craig, despite his super-fly togs and appropriately menacing 9mm piece (bumped up from the original 7.65mm, in case you were interested), seems considerably less so, in the new promo material. Bond-bombshell Bérénice Marlohe, love-interest Naomie Harris (who is clearly not taking even a smattering of shit from Bond) and baddie Javier Bardem also feature. Click to enlarge!

Bond, in one of Tom Ford's most striking creations, looks pleasingly sulky (as you would if you were cleaning up after Judi Dench's computer booboo; were it us, we'd have just got her that Brain Training Nintendo DS doodad and washed our hands of her) against the backdrop of the classic, if not exactly groundbreaking monochrome colour scheme. However, one of our favourite things about Craig's Bond is how no-nonsense he is – even when he's put his tailored galoshes on for the purposes of wading through emotionally-damaged clunge, he's always got his hand on his gun and eyes straight ahead.
In case you'd forgotten, Skyfall is directed by Sam Mendes, and as well as Judi Dench, stars Ben Whishaw (Perfume: Story of a Murderer) as Q (!) and gets Ralph Fiennes in to join the blow-stuff-up party too. Even without added Voldemort, we were sold. You spoil us, Daniel.
Skyfall is released on October 26th, 2012.
About The Author