New Skyfall TV spot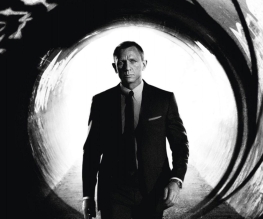 The BBC has released behind-the-scenes footage of Bond's journey to the palace to pick up old Lizzie, and frankly, it makes the clusterfuck that used to be London Bridge station look positively fun. At least, that's what we would like to think it is; in actuality, it's just a timely follow-up to Daniel Craig's lollipop lady gig in a brand-new TV spot for the next Bond vehicle, Skyfall.
Compiled rather more snappily than the first trailer, complete with a very surly reporting-for-duty from the man himself, Skyfall continues to look far more similar to the excellent Casino Royale than the misery-fest that was Quantum of Solace. New Bond girls Naomie Harris and Bérénice Marlohe are looking on fine form indeed – emphasis on the fine – but with no sign of Ben Whishaw's revamped Q, this is really just a happy rehash of guns and cars and some very lovely suits.
Judi Dench's M will be at the centre of the plot of Skyfall, after making an admin booboo which puts every undercover agent everywhere at risk. In order to save the MI6 lackey peddling cut-price pirate DVDs to your dad in the pub to fund puppy-trafficking or something, Bond gets on the case in Istanbul and the South China Sea to do the impossible and get something off the Internet.
At least he's going to look good whilst he does it – Skyfall is released in the UK on 26 October 2012.
About The Author