New Sucker Punch featurette lands online – in slow motion of course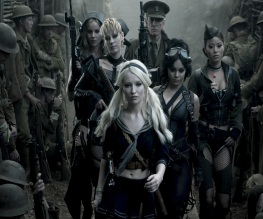 A new Sucker Punch featurette has arrived online, hitting high above its weight with some extraordinary new footage.
Boasting mind-bending visuals, scantily clad samurai and a Hungarian Horntail trouncing dragon, the featurette teases numerous plot points in Zack Snyder's latest cheese dream.
Sucker Punch follows Babydoll (Emily Browning), held prisoner at a psychiatric institution at her wicked stepfather's behest, as she attempts to escape prior to her scheduled lobotomy. Eager to keep her prefrontal cortex as intact as possible, she imagines her own reality in an attempts to secure her escape. From burlesque to battlefield, she is accompanied by Jamie Chung, Jenna Malone, Vanessa Hudgens and Abbie Cornish on a series of increasingly epic quests.
Interspersed with a series of informative talking heads, the featurette proves an intriguing insight into the gloriously OTT Sucker Punch. With the finishing touches still being applied, the movie is due out on April 1, 2011.
About The Author