New teaser poster for Thor does exactly what it says on the tin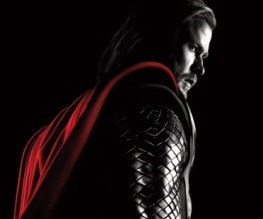 With the first official trailer expected to go up some time this afternoon, Marvel have released the first teaser poster for their upcoming superhero movie, Thor – presumably to mark its director's 50th birthday. The movie,set to finally bring the Norse God of Thunder to the big screen after years languishing in development Hell, is set to be released next summer in 3D.
Paramount Pictures and Marvel Entertainment present the epic adventure, "Thor," which spans the Marvel Universe from present day Earth to the realm of Asgard. At the center of the story is the mighty Thor (Chris Hemsworth), a powerful but arrogant warrior whose reckless actions reignite an ancient war. Thor is cast down to Earth by his father Odin (Anthony Hopkins) and is forced to live among humans. A beautiful, young scientist, Jane Foster (Natalie Portman), has a profound effect on Thor, as she ultimately becomes his first love. It's while here on Earth that Thor learns what it takes to be a true hero when the most dangerous villain of his world sends the darkest forces of Asgard to invade Earth.
While the poster is suitably bad-ass, it goes to great lengths to hide a number of the more recognisable characteristics of the Asgardian hero. Shrouded in darkness, the cape and hammer stand dominant against the shadow, downplaying the extravegance of the actual costume itself. It works, however, and while advertisers might be overdoing the "looming lone character from behind" angle, Thor comes out looking suitably epic.
You can see the teaser poster in all it's glory below.
About The Author