New trailer for Abraham Lincoln: Vampire Hunter lands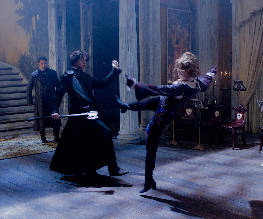 Gosh, this is one long-dead president who certainly isn't wasting any time. Having presented us with a first (totally ace) trailer about a month ago, we're being treated to another look at Abraham Lincoln: Vampire Hunter: more rousing strings, explosions and truly lovely hats. Of course, we're all too busy doing liitle weeps over the new Prometheus trailer to care, but it's good of them to try.
Massive axe ahoy!
Are we wrong for just being really, really up for this? The epic weapon-toting, the ridiculously melodramatic score, the words like "ONLY THE LIVING CAN KILL THE DEAD" – seriously, what is there not to like? The secret history of President Lincoln's vampire fighting career isn't getting released in the UK until August of this year, so there's plenty of time for us to get bored of watching Benjamin Walker smash an axe LITERALLY RIGHT THROUGH A TREE. Amazing.
About The Author