New trailer for Maggie Gyllenhaal/Viola Davis flick Won't Back Down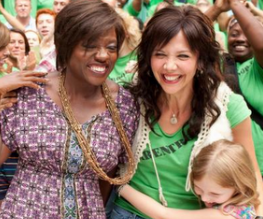 Viola Davis, famed for starring in the lucratively heart-warming The Help, looks set to get all our hearts warmed in the potentially gloriously lucrative Won't Back Down. A true story about teachers and parents who just wanna HELP THE KIDS DAMMIT, it features Davis' trademark soulful gaze, Maggie Gyllenhaal's determination face and a cute blonde kid who can't read. YET. CAN'T READ YET.
We're being bastards, obviously, but it's only because a bit soul-rending story 'inspired by true events' ends up going the way of Extremely Loud And Incredibly Close far more often than it does that of Erin Brockovitch. Still, let's let the moving noises do the talking:
Now, we don't want to alarm anyone, but Daniel Barnz – the director and writer of Won't Back Down, was also the director and writer of Beastly. Yes Beastly, The Beauty And The Beast mutation that starred that lass out of High School Musical and a magical Olsen twin. We're not saying that his crimes against cinema so far should prevent him from ever making any film again, but it's a bit what we're saying. Should we give him a break and just try and look forward to Won't Back Down? Probably.
Thoughts? Worries? Hopes? Come to the front of the class please…
About The Author