Will Morgan Freeman join Last Vegas?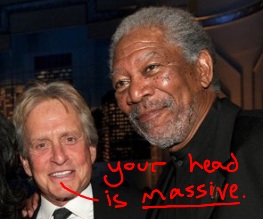 Michael Douglas' comeback film Last Vegas is reportedly close to acquiring its third Oscar-winning star as Morgan Freeman considers joining a principal cast which already boasts Robert De Niro.
Douglas was originally planning to appear alongside Dustin Hoffman and Christopher Walken, but they moved on to pastures new when the project was shelved a few years ago. It did look like the Wall Street star was definitely going to die, though, so fair play.
Last Vegas is a post-Hangover ensemble comedy about four friends who reunite in Vegas for Douglas' character's engagement. We know De Niro will be playing the most party-averse member of the gang, but as yet nothing's been revealed about Freeman's character. We're guessing he'll either be playing God or the Easy Reader:
He's such a hepcat. Assuming Freeman signs on the dotted line, the big question now is who will complete the quartet of elderly mischief-makers. Any thoughts?
Who else would you like to see join Last Vegas? Let us know below!
About The Author