New trailer for Silent Hill: Revelation 3D released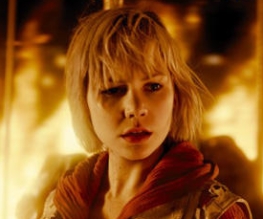 Gamers among you might be jazzed to hear that Silent Hill: Revelation 3D, the new film of the Silent Hill video game series' third instalment, has a shiny new trailer out, and it's actually really fucking creepy. The nurses, whose murderous intent is always proportional to the depth of their cleavage in the games, join Kit Harington (Game of Thrones) for a spot of BDSM with a side of murder.
Adelaide Clemens, who you might have last seen as Carnival Girl in the part of X-Men we try to pretend never happened, X-Men Origins: Wolverine, is still presenting as an actress who's got a real knack for stating the bloody obvious. "We need a knife," she says. Well, when the nice ladies who've strapped Jon Snow down are all performing some busty hybrid of hara-kiri and the Robot, a knife is a good start.
Sean Bean, having risen from the grisly dead in that way he has, will be playing Clemens' father, who goes missing when Clemens' character Heather Mason wakes up on the eve of her 18th birthday (this shit never goes down on just like, a Wednesday mid-morning, does it?). The aforementioned shit proceeds to get real when Jon Snow shows up and brings a load of broody negativity and stabby zombies with him. So far, so Westeros.
The film is directed by Michael J. Bassett (Solomon Kane), and actually has quite an exciting supporting cast, with Carrie-Ann Moss (The Matrix), Radha Mitchell (Finding Neverland) and Malcolm Macdowell (The Artist) all making an appearance. For old Malcolm alone, and on the off chance that Jon Snow unfurrows his brow at some point, we're looking forward to its release on 31 October 2012.
About The Author