Next On The Reboot List… The Three Musketeers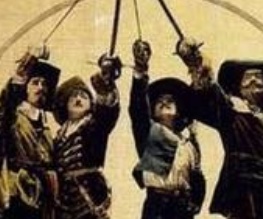 Yep, it seems that next up in the age of 'Hollywood-are-running-out-of-ideas' is a re-boot of Alexandre Dumas' novel The Three Musketeers. And not only that – it seems like there's going to be two of them.
The LA Times has reported that Warner Brothers have drawn up a list of possible directors for a new block-busting project centred around the 17th century heroes, with both Doug Liman and David Frankel at the top of the list to direct it.
At the same time, serial adapters Paul WS Anderson and Andrew Davies are also writing a Musketeers script, with a plan to make it 3D-tastic (for a change) and are hoping to cast Taylor Lautner as one of the leads. So which swash-buckling story will win out? Only time will tell. So much for "all for one and one for all", eh?
Which team would you have faith in? Let us know below!
About The Author