Oldboy remake has a pretty ace first poster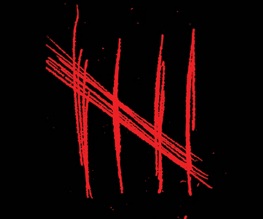 There's a new poster for Spike Lee's remake of Park Chan-wook's film Oldboy, and if you're not familiar with the plot, this poster will be a bit confusing. Oldboy is the story of a high-flying advertising executive called Joe Doucett who is kidnapped and held captive for twenty years. After being released Doucett tries to find the people who held him prisoner, only to discover that he is merely a small part of a much larger conspiracy.
The poster, which you can see and click on below, features a series of bloody tally-marks: four in total and each with five strikes to represent the years Doucett spent in captivity. It all sounds a bit grim, but intriguingly so.

Josh Brolin stars as the businessman in peril, while Elizabeth Olsen, Sharlto Copley, Samuel L Jackson and Michael Imperioli also star. I Am Legend scribe Mark Protosevich has written the script. Given Chan-wook's form for chilling, mind-boggling and gripping dramas such as Stoker, and Brolin's ability to be awesome in anything he does, we're looking forward to this. Hollywood are all up in Chan-wook's grill at the moment, as a remake of his Lady Vengeance trilogy is currently being planned, with Charlize Theron set to star.
About The Author