Oscar poster commemorates 85 years of Best Pictures
Ahead of the Oscar ceremony on February 24, an official poster has been designed by artist Olly Moss to commemorate the 85th anniversary of the awards. The poster shows all the statues for Best Picture based on what film won that year. Looking closely, you can see last year's winner, The Artist, in black and white and 2010's winner The King's Speech with a small microphone.
Click to see the full size image.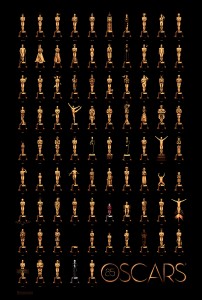 The poster was designed in collaboration with Gallery1988 and the Academy of Motion Picture Arts and Sciences to create something honoring all the winners from 1927 to present day. Moss is best known for his distinctive minimalist designs and has in the past designed iconic posters for the Star Trek reboot and The Blues Brothers. You can view his work here.
The poster was unveiled after the Baftas on Sunday night, where Ben Affleck's Iranian hostage drama Argo won the Best Film and Best Director awards. The nominees for Best Film at the Oscars can be found here. The poster can be bought via The Academy's website shop.
Try to spot as many Oscar winners as you can without cheating! Let us know how you got on.
About The Author