Reese Witherspoon and Nick Hornby team up for Wild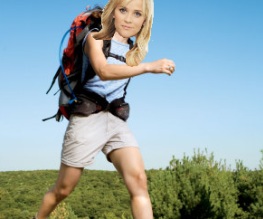 Reese Witherspoon loves acting in films doesn't she? You can't stop her from doing at it. She's just always at it. Legally Blonde, Walk the Line, This Means War and now this! Another film for Reese Witherspoon to get her dirty paws all over. We don't have a problem with Reese Witherspoon, by the way. If anything we'd like to see her in ALL THE FILMS! Woooooo! Anyway, we're getting off topic.
The news today is that Reese Witherspoon is set to star in the film of Wild, the bestselling memoir by Cheryl Strayed (no we haven't heard of it either. Are we philistines?). Wild tells the true story of a young woman who is devastated following the death of her mother, and decides to hike the Pacific Crest Trail from the Mojave Desert through California and Oregon to Washington State (that's far btw). The project is being produced by Reese Witherspoon's production company Pacific Standard and scripted by Nick "About A Boy" Hornby.
We think this all sounds promising. Reese Witherspoon is a good actress and seems like a nice lady. On top of that, Nick Hornby! He's a good egg.
Have you heard of Wild? Do you love Reese Witherspoon with a burning passion? ARE YOU RYAN PHILIPPE?
About The Author