Oz dress worn by Judy Garland sells for $480,000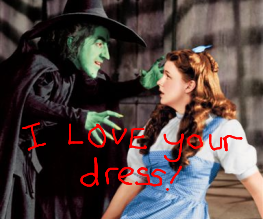 The Wizard of Oz's iconic blue and white gingham dress, as worn by Judy Garland, has sold in a 2-day Hollywood auction for $480,000 to an unnamed buyer. Other highlights of the auction included the green floral dress worn by Julie Andrews in The Sound of Music ($38,400), a racing jacket worn by Steve McQueen ($50,000) and a wool dress worn by Marilyn Monroe in River of No Return ($50,000).
Ironically, the dress worn for the screen tests of The Wizard of Oz sold for $910,000 last year, despite the fact that it never made it onto the big screen. This is due to the fact that far fewer of the Oz test-dresses were ever actually made. We also suspect that Judy Garland was a complete slob on the set of Oz, and probably stained the gingham Oz dress with soiled Scarecrow straw, rancid Tin Man motor oil and Cowardly Lion droppings.
Typing in the multiple factors surround the purchase of the Oz dress into the Best For Film Statistical Analysis Robot has projected a 97% chance that the purchaser is a perverted Japanese businessman with a collection of stolen women's underwear he has been building for the last 25 years.
Iconic outfits worn in films have become big sellers in the last few years. The classic white dress of Marilyn Monroe (the one where you can see right up her knickers), featured in The Seven Year Itch, sold for $4.6 million in 2011. Looks like they'll have to start selling even more stuff off the set of The Wizard of Oz to make that level of cash. Would anyone be up for buying the Wicked Witch's thong? Our dirty Japanese businessman's ears are burning.
Expect to see more generation-defining clothes when Oz: The Great and Powerful hits cinemas in 2013.
What other crap from The Wizard of Oz would you like to make a daily accessory for your wardrobe?
About The Author