Pacific Rim gets a sweet new trailer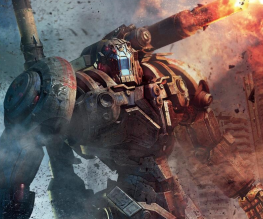 Pacific Rim, the latest work by writer/director Guillermo del Toro, has launched a monster-punching trailer into the war zone that is our hearts. Although having distinct similarities to the legendary Japanese anime Neon Genesis Evangelion, Pacific Rim looks like the closest Hollywood adaptation of Giant-Robots-Fights-Massive-Monsters without getting silly. Let's watch Idris Elba, Charlie Hunnam get ready to rumble! Feast your eyes:
There's nothing particularly new in the latest trailer, but how exciting does Pacific Rim look!? The physics of an enormous fist flying through the air, the bizarre look of a robot as it runs down a street (possibly the Akihabara district in Tokyo?), the bombastic sound effects and the adrenaline-pumped cast, all look to be on form in Pacific Rim.
Guillermo del Toro can do no wrong lately. Aside from the imminent Pacific Rim, he has about 10 other projects on the go; Pinocchio and Crimson Peak are in pre-production, he's involved in the attempt to create a new Incredible Hulk TV series, and has announced his intention to create a Dark Justice League movie. Pacific Rim will see Guillermo del Toro's return to the directing chair after a 5 year absence, the last film being Hellboy: The Golden Army.
We're enormously excited for Pacific Rim. Idris Elba cancels the apocalypse with Charlie Hunnam and Ron Perlman when Pacific Rim hits UK cinemas on 12th July.
Robots! Monsters! Idris Elba! What did you think of the latest Pacific Rim trailer? Let us know in the comments below!
About The Author