Phillip Seymour Hoffman to direct Ezekiel Moss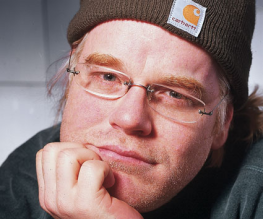 Phillip Seymour Hoffman has been receiving rave reviews for his performance in Paul Thomas Anderson's The Master and he now looks set to add another string to his bow. It has just been announced he will be directing a Depression era set ghost story called Ezekiel Moss: the story of a small boy who befriends a mysterious drifter who may or may not have the power to speak to the dead. It all sounds a bit Sixth Sense to us but we have no doubt the film will fare well in Hoffman's capable hands.
This will be Hoffman's second try at sitting in the director's chair after he made his directorial debut in 2010's Jack Goes Boating. The script, written by Keith Bunin, comes from 2011's Black List Script (an annual compilation of Hollywood's best liked unproduced scripts) and it looks like an interesting mixture of period piece and horror.
There's been no word on when the film will go into production, and with Hoffman currently filming The Hunger Games sequel, The Hunger Games: Catching Fire, and a further appearance in Yaron Zilberman's A Late Quartet slated for later this year, it could be a while before we hear anymore news on this one but we'll be keeping our eyes peeled.
About The Author