Nick Frost rounds off Snow White and the Huntsman's dwarves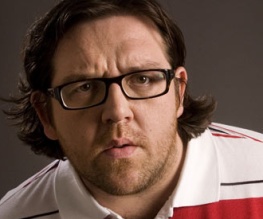 Right: the dwarves in Snow White and the Huntsman appear to have all been cast, but we can't make the numbers work. We gave you six of the names a while back, and since then Ray Winstone has joined Ian McShane, Eddie Izzard, Bob Hoskins, Toby Jones, Eddie Marsan and Stephen Graham. Seven dwarves. So how, pray, has Nick Frost also been cast as part of Snow White's diminutive posse?
Well, apparently Snow White and the Huntsman could be subtitled …and the Eight Dwarves, because that's how many we're going to see. The seven principal dwarves, all of whom are named after Roman emperors (McShane is boss dwarf Caesar, Graham is angry Nero, Izzard is burly Tiberius, Hoskins is blind Constantine, Jones is timid Claudius and Marsan & Winstone are the twins Hadrian and Trajan) are joined by young hanger-on Gus – played by Frost, a charming chap for whom we have infinite time.
Current rumours have it that Snow White and the Huntsman is to be the first in a trilogy – at least Frost will have something to do whilst Simon Pegg makes innumerable Star Trek films for the next eighty years, eh?
About The Author