Pixie Lott turns actress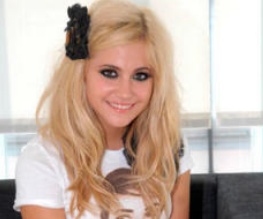 … and not only that, she's going to be playing the virgin Mary. Not bad for a first gig, eh?
Along with the always cool Sam Rockwell, Kim Catrall and Bette Midler, singer Pixie will be starring in The Second Coming, a comic re-vamping of the traditional nativity, in which a young pregnant girl travelling to Bethlehem – Maryland USA, discovers that the second coming of Jesus is imminent. Rockwell is set to play her boyfriend Joe, Kim Catrall will be playing her mother, and Bette Midler will be taking the part of the innkeeper. Or something.
The film will be directed by Peter Hewitt, known for Garfield, and is based on a screenplay by Steve Blair. Producer Philippe Rebboah said: "It made me laugh out loud. The script has such fun subverting the treasured details of the Nativity – posing the question, 'What would we do if it all happened again?'"
It's an interesting enough premise, though comedy fans everywhere will be watching with an eagle eye to make sure the laughs don't come straight lifted from the likes of The Life Of Brian. But can Pixie really act? Only time will tell…
About The Author